Povratak na Događanja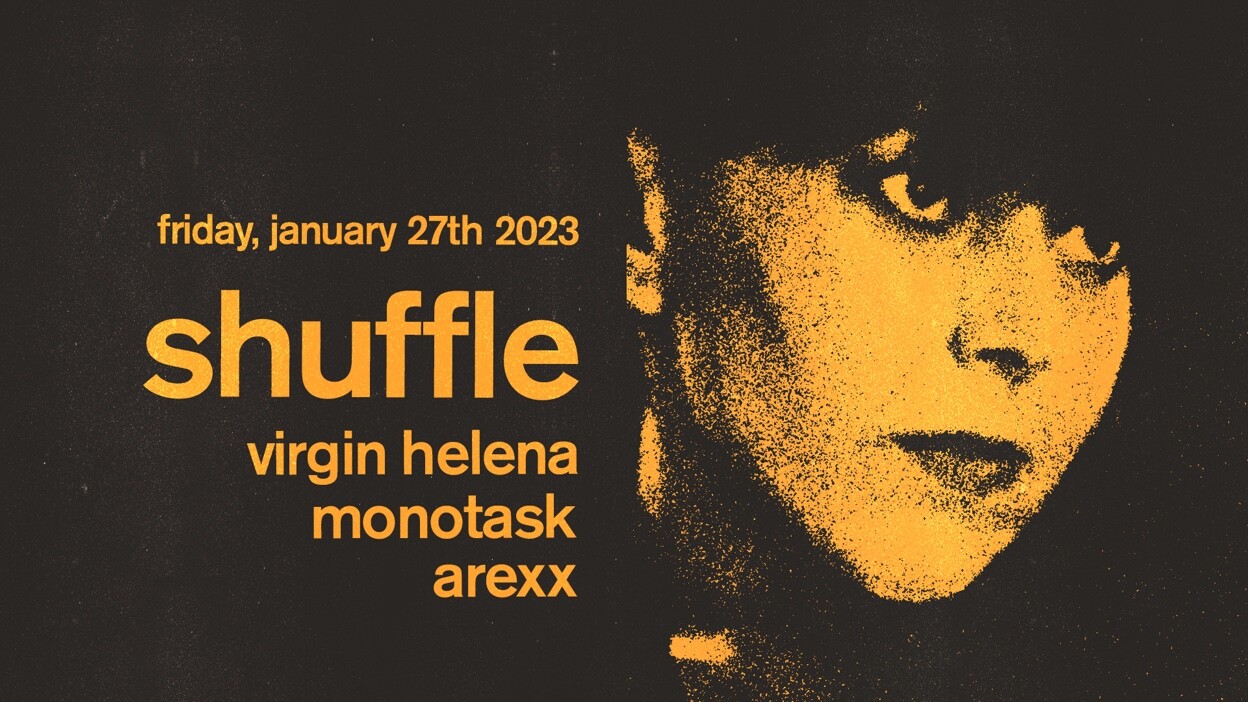 Shuffle w/ Virgin Helena
PETAK, 27.1. od 23:00 - 5:00
Shuffle (Cambridge dictionary), mix a set of playing cards without seeing their values before beginning a game, so that their order is not known to any of the players.
Partyk i Monotask, su idejni začetnici programa u kojem naglasak nije na pojedinom stilu house i techno glazbe, već se vode idejom da glazba koja se može čuti obuhvati njihove različite interese i utjecaje. Programom će se tijekom vremena izmjenjivati različiti dj-i te će se prezentirati različite glazbene kombinacije tijekom jedne večeri.
Virgin Helena is not your ordinary DJ. Either behind the turntables, or just attending the party, she is always the center of attention. She started performing as professional DJ in 1993., being the first female techno DJ in Croatia, playing at all major clubs and events, and holding a residency at the legendary Quorum Colours.
http://mixcloud.com/virginhelena/
AREXX At the beginning of the 90's and techno revolution started working as a DJ. Simultaneously takes part in the production of electronic music and collaborates with electronic musicians. Years of collaboration in the production of electronic music resulted in creation of his own music as well as personal style and recognizable sound. In mid-90's starts using slogan "extraterrestrial disc jockey", adding level of recognition to his work as a Dj and building his own Dj style and sound which can in short be described as a hi-tech ambient techno and edge techno style of a dance floor character, often with Detroit or even tribal/trance excursions in the set. This is something that's been following him through the years of his work and Dj performances in many clubs. In the year 2000 he emerged as one of the initiators of the music show "Priključak" at HRT Radio Rijeka - educational, comprehensive and probably the most progressive show about electronic music ever broadcast in the Republic of Croatia. In 2002, as a part of "Priključak", he starts and hosts music section on Dj culture and so-called dj "mix tapes" titled "Art of mixing" which during the years hosted a string of musicians and dj-s from Croatia and abroad, presenting them and their work. Today, apart from his own music production and production work in the studio, he produces sound for professional FX libraries, as he is a PRO sound recordist. However he is still DJing playing vinyl only DJ sets.
https://soundcloud.com/arexx-music
Monotask (Matija Brozovic) DJ and music producer from Rijeka. His sets combine different genres but mostly based on Detroit House and Techno but also Deep House, Dub, Hip Hop, etc. As a producer he is more into ambient and atmospheric soundscapes containing field recordings and linking classical and modal melodies.
https://www.youtube.com/c/UndergroundElectronicSoundRijeka
https://soundcloud.com/monotask01
https://monotask.bandcamp.com
Ulaz

- 4 € (30.14 HRK)
Kupi kartu